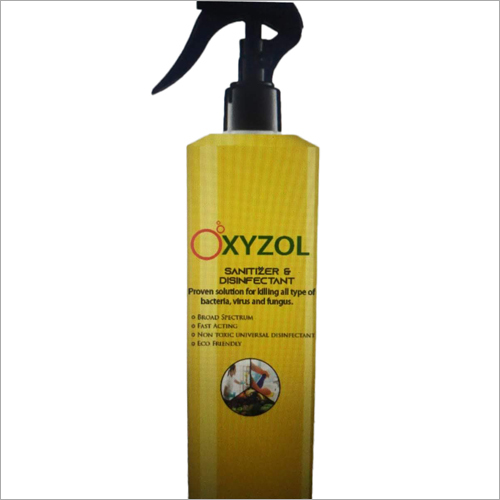 Oxyzol Disinfection
Product Description
Oxyzol is a broad spectrum, fast acting, non toxic, eco friendly disinfectant for universal Application It can kill all type of micro-organism in a very short contact of time. Oxyzol spray kills 99.9% of germs in 30 second. Oxyzol spray can help to protect your family illness by helping prevent the spread of harmful bacteria and viruses. Oxyzol, s unique formula is proven to kill 99.9% of vacterail and viruses including E coli, salmonella and flu virus H1N1 on surface that you come in to contact with every day such as door handles, kitchen bins and toilet areas. Oxyzol can replace all toxic disinfectant that are being used today.

Advantages of Oxyzol :-
Oxyzol offers many advantages over traditional chemical technologies, including:
Oxyzol is a very potent & broad spectrum disinfectant.
Oxyzol is fast acting & can kill all types of bacteria, Viruses, Fungi & Spores, within a short contact time.
Oxyzol is effective and efficient to kill all spore and non spore forming bacteria within 30 second of contact time .
Oxyzol can kill bacillus bacteris within a very short span of time.
Enterococci are gram-positive, facultative anaerobic organisms. Enterococcus faecalis and E. faecium cause a variety of infections, including endocarditis, urinary tract infections, prostatitis, intra-abdominal infection, cellulitis, and wound infection as well as concurrent bacteremia. Oxyzol can kill such dangers bacteria within 30 second of contact time.
E.Coli generally comes from eating raw and undercooked food. Oxyzol can spray all vegetables and fruits. it can kill E. Coli within 30 second of contact time.
Pseudomonas is generally found in surface and infect the people very fast .our oxyzol kill it within 30 seconds on any surface .
Oxyzol is very effective to kill flu including H1N1.
This is absolutely environment friendly product & 100% safe for human being & Environment.
Non-Carcinogenic, non -irritant & non hazardous in nature.
Oxyzol can replace all toxic disinfectant that are being used today.
Oxyzol can be used for the disinfection of Surface, Floor, Air, Furniture, Fixtures, Equipments, Car etc.
Contact Us
B No. F- 319 , Sector 63,, Noida, Uttar Pradesh, 201301, India
Phone :+918045475164